Click arrow above for Training Video
BEST LIFE CARE Program At-A-Glance
The Conscious Dying Institute provides end-of-life training, certificate programs, and continuing education in palliative care for nurses, physicians, clinicians and caregivers. In particular, we offer customized healthcare systems-oriented trainings and educational programs touching upon all aspects of end of life conscious dying care.
Testimonials:
Teresa A. Head, RN, BSN, CHPN, Palliative Care RN Coordinator, Caritas Coach, Kaiser Richmond Medical Center "Being in Tarron's programs help me see how to focus on the inner needs of staff, their challenges and dreams for better care at end of life. As a palliative care provider, Tarron's programs give me hope that as our palliative care programs expand, we can someday offer trainings to medical providers to provide best practice to deliver care to the dying. An educational package that includes training about personal death awareness issues will not only improve care to our members, it will bring deeper meaning, peace, and resiliency to our dedicated health care professionals."
Michael Gunther Maher MD, FACP, Medical Director, Hospice | Kaiser-Permanente, Sacramento / Roseville "The staff retreat for the Roseville Hospice Team was memorable and remarkable. Tarron's expertise and style were excellent and made possible a depth of thoughtfulness and exploration that is rare in health care. It's heart-warming to see in another person the love, wisdom and depth I so value in my own life. Tarron, You are the entire package, and I came away deeply impressed and appreciative. You are going for the heart of things, where true hope and joy reside."
Read more:
Each system is different, each engagement is unique - we work to meet the specific needs of your organization.
Program COSTS, Dates & Locations:
Scheduling is done collaboratively through preliminary planning sessions
We travel to your location(s)
We prepare a detailed proposal based upon your needs. Individual program costs will vary, but will always include travel expenses (transportation, meals and lodging) for Conscious Dying Institute staff as needed.
Proposal Process
Inquiries welcome. Contact us for more information: phone: 303-440-8018 or send an email.
Best Life Care© and Culture Change Initiatives for Hospitals, Senior Care Communities, University Systems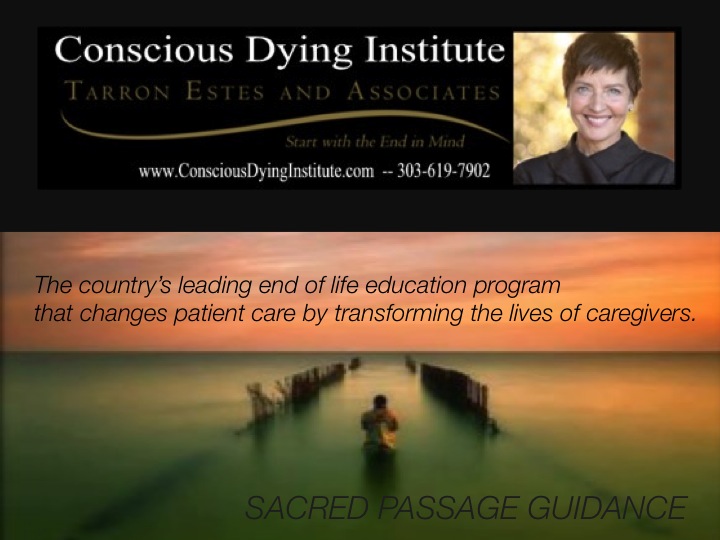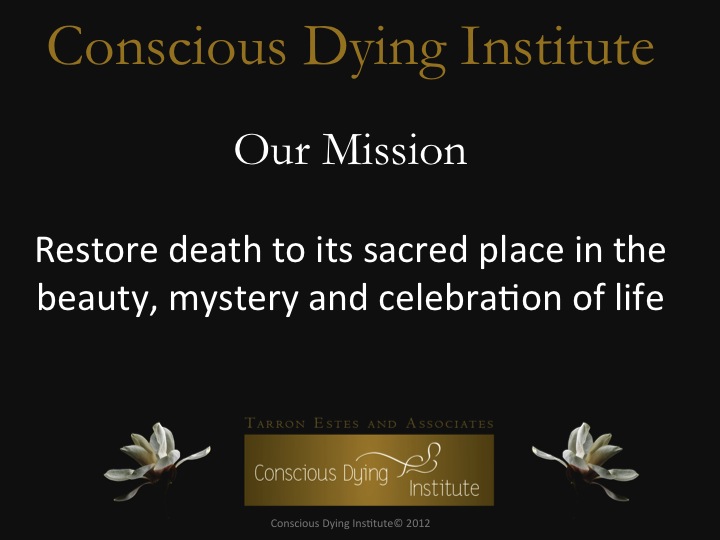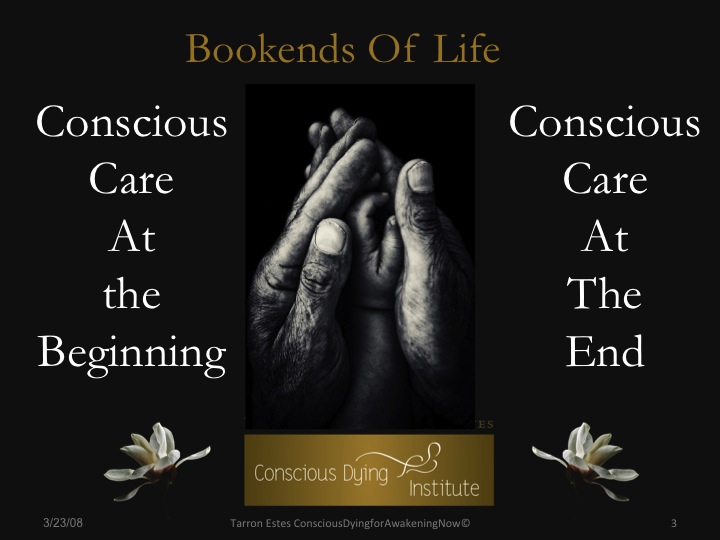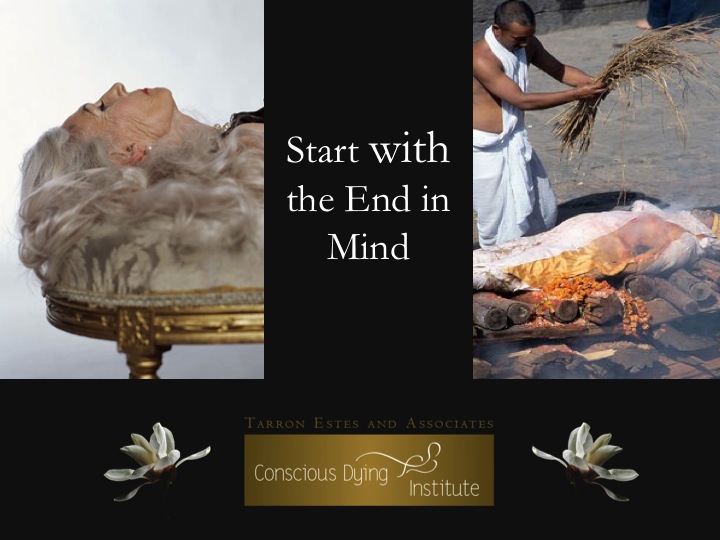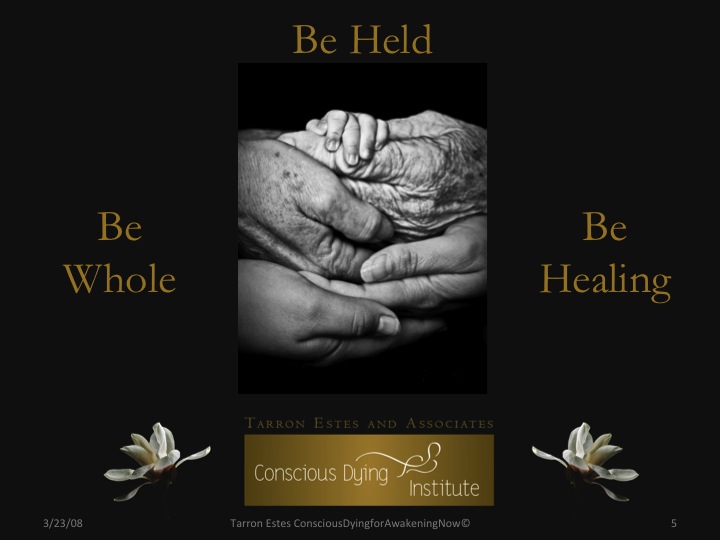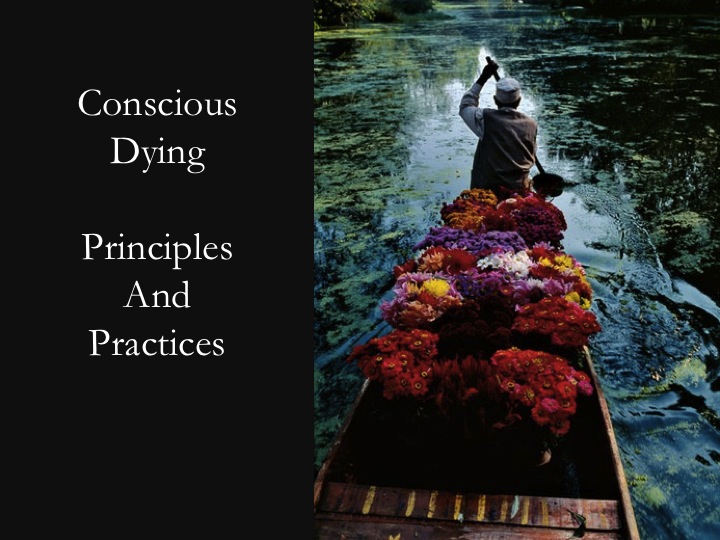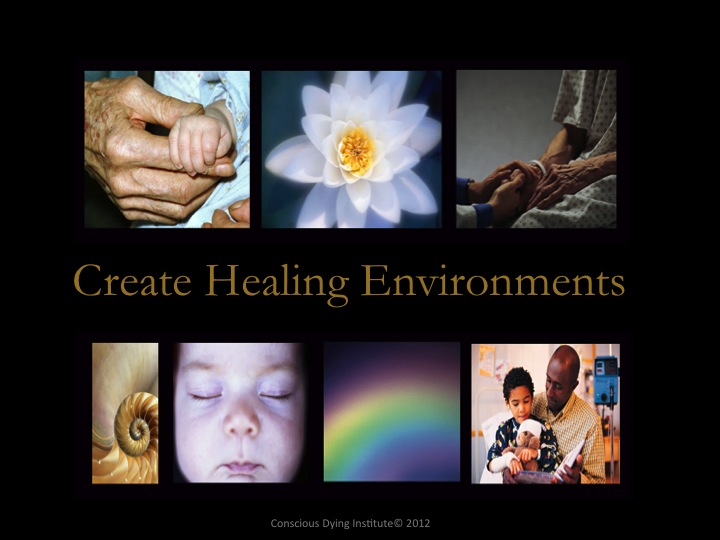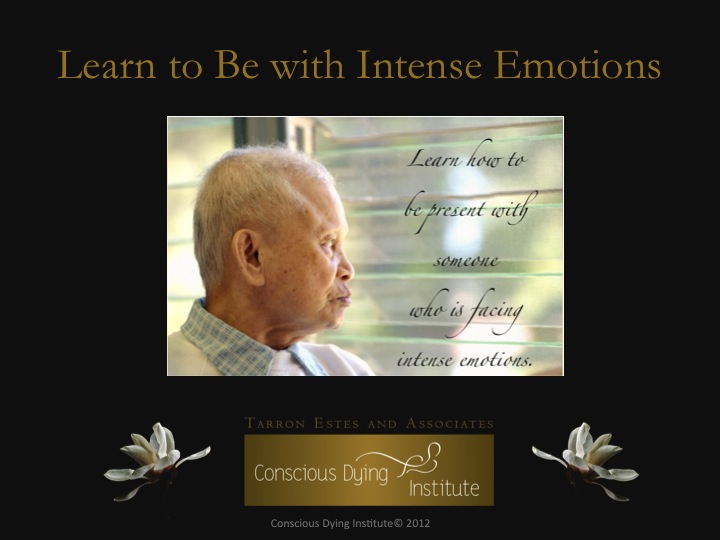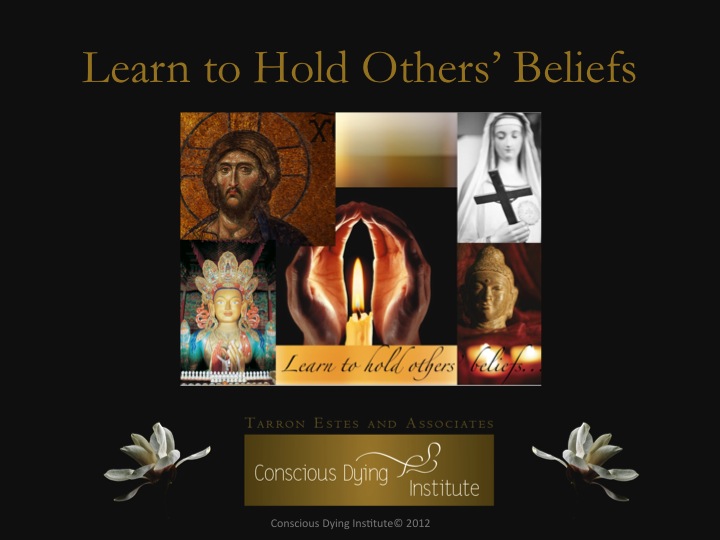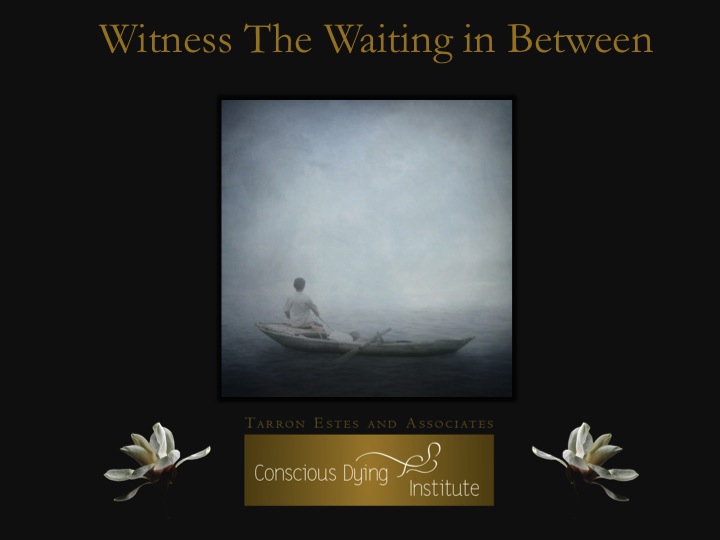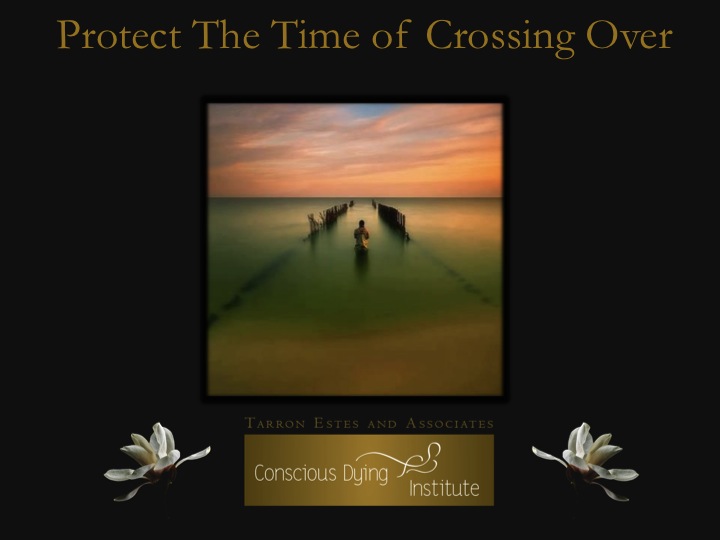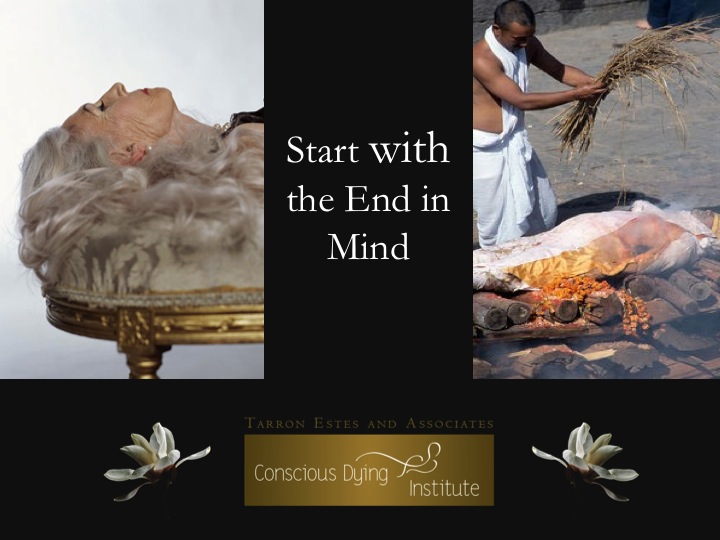 What we do:
Our mission: Restoring Death to Its Sacred Place in the Mystery, Beauty, and Celebration of Life
Our Conscious Dying Education programs increase the number of patients and families receiving the care they want and need by transforming the lives of caring professionals. Its unique curriculum awakens and nourishes clinicians, increases their ability to be the primary healing instrument of care delivery. The program content is 'non-proscriptive'. It relies on the principle "we innately give what we receive" When included in program curriculum, system-wide goals and behavioral objectives are improved and implemented. Our goal is to bring palliative care practices to frontline caregivers in all home and healthcare settings increasing the reach of palliative care. In this way, clinicians, physicians, nurses, CNAs, individuals across ALL parts of the system will benefit from our trainings.
Our end of life educational programs are exceptional learning opportunities for professionals in continuum of care, hospice, health and palliative care systems. They revolve around practices in compassionate connection, confident communication, and comforting care derived from Conscious Dying /Caring Science theory and practices. They increase authentic presence in staff, enhance their connection with patients, increase confidence to talk about concerns and wishes, and provide comforting care that is based in patient values and choices. With the increase in patient and family desire to have physician-supported conversations, physicians and team members across all settings benefit.
What Makes us Unique:
Transformational Learning Activities allowing participants to reflect and understand their own relationship to death and to receive and offer the comforting care desired by others facing end of life
Content and Practices derived from spiritual and medical leaders such as Dr. Elizabeth Kubler-ross, Dr. Jean Watson, Frank Osteski, Graceful Passages, Pema Chodron, Dr. Peter Fenner, Eckhart Tolle, etc.
Media rich content, evidence informed, high touch healing modalities
Expert presenters and facilitators, innovators in end of life education, emotional intelligence, veterans care, and more.
We use experiential and evidence informed practices that heighten the emotional intelligence and spiritual awareness of caring professionals. This innovative human caring model of education improves quality of life and death in all domains of life, throughout the full life continuum, all health conditions, and all health care settings. It addresses the ethical, moral, spiritual and financial imperatives that nourish all people in their care experience.
Since frontline staff have more frequent and consistent patient and family contact, we focus on increasing caring healing capacity in this population. Renewing their purpose as caregivers and increasing their awareness of their own hopes, fears, and wishes for care at end of life improves the care they give to others.
How we work with system clients:
Each program offering is tailored to the specific system needs. An effective end of life culture change initiative will include:
1. A launch meeting for leaders, allowing leaders to:
Identify and reinforce caring healing behaviors in self and staff
Consider caring healing outcomes on surveys tools that reflect the true needs and values of patients and families
Translate and practice program goals and caring values in all staff meetings to increase learning
Create new target metrics that reflect patient values such as connection, communication, comfort, positive nurse/patient relationship, lowering hospital utilization, increase utilization of hospice and palliative care
2. End of life culture change workshops for staff, allowing staff to:
Translate and practice program goals and caring values in all staff meetings to increase learning principles and practices of Conscious Dying Caring Science Principles and Practices
Practice spiritual inquiry, emotional completion including grief loss and forgiveness leading to greater understanding of patient needs
Practice comfort therapies in spiritual, emotional, psychosocial, physical and after death care
Receive self-care practices that reduce stress and burnout
Increase Caring Communication and Conversational Confidence regarding end of life care
Contact Tarron directly for more information: phone: 303-440-8018 or send an email.