Click arrow above for Training Video
Program At-A-Glance
This Certificate is a residential retreat program for frontline clinicians, clinical leaders, educators, home and family caregivers, healing arts professionals, volunteers, and anyone interested in exploring their own life and death.
CEUs & Program Requirements:
The Certificate offers 64 CEUs through Pfiedler Enterprises. In order to receive certificates, participants must complete all program requirements. Note: CEUs granted are Nursing CEUs - however most other professional licencing agencies accept them.
Program Dates and Locations:
October 18th – 25th 2016
Location: Kashi Ashram -

Sebastian, FL
Cost: $2695 (includes delicious vegetarian meals and dormatory lodging at Kashi Ashram - room upgrades available: complete your registration then contact Usha at 772-589-1403 ext. 100)
Read more: Benefits of Sacred Passage Guidance Training.
Application Process:
Applying is easy. Click here to open our on-line application, fill in the blanks and you're done. We'll be in touch with you shortly thereafter.
Registration Process:
Check back soon! We are finalizing our registration process.
Testimonials
Christine Crouch,RN,BSN
Kaiser Permanente Volunteer
Kaiser Sacramento Medical Center
2025 Morse Ave.
Sacramento, California 95825
"Icompleted three program trips to Boulder in 2013 and 2014 and found that it was worth every minute of my time and expense. My intention was to bring back my knowledge and experience to the hospital by adding to the nurse's project and spread it throughout the hospital.
The results from my participation in this cutting-edge program continues to manifest in my life and in my volunteering,in ways that I did not expect. I had an open mind and without an expected outcome. This allowed me to deeply experience the Conscious Dying principles,exercises, meditations, active listening, openly sharing in a safe environment, and deep learning from experienced leaders in the areas of dying/death, music, meditations, artistic expression, healing modalities in more expansive ways.The program allowed me to tap into areas of myself that I did not know I could do. I felt transformedand am making decisions that allow me to live more fully. I believe that when the health caregiver is transformed, patients and families are transformed.
I wish to see more health caregivers participate in the Conscious Dying Institute Programs as I see that it will result in their own transformation. I envision patients/families will make more informed decisions related to end-of-life care. I envision more patients will have Advanced Directives and participate in palliative care.They will understand the dying/death process and express their wishes. This will increase HCAP scores because they feel Kaiser supports them. It will also cost less for the patient and KP."

 
Sacred Passage Doula Retreat: Transformational Education & Renewal for Patients, Staff and Families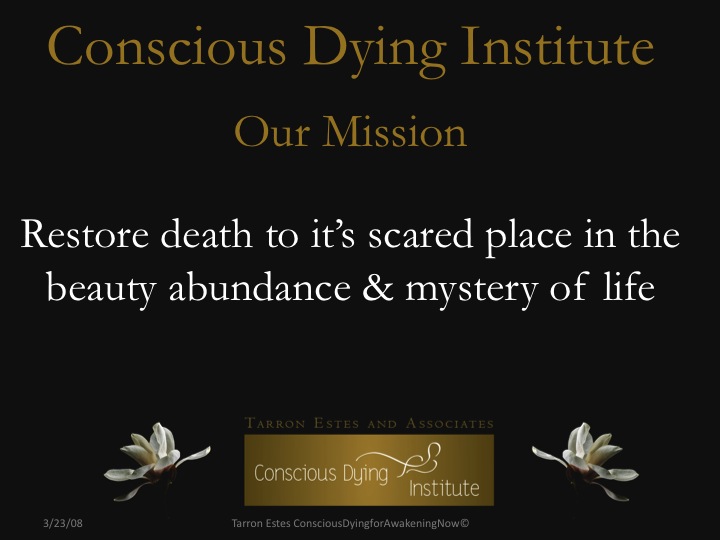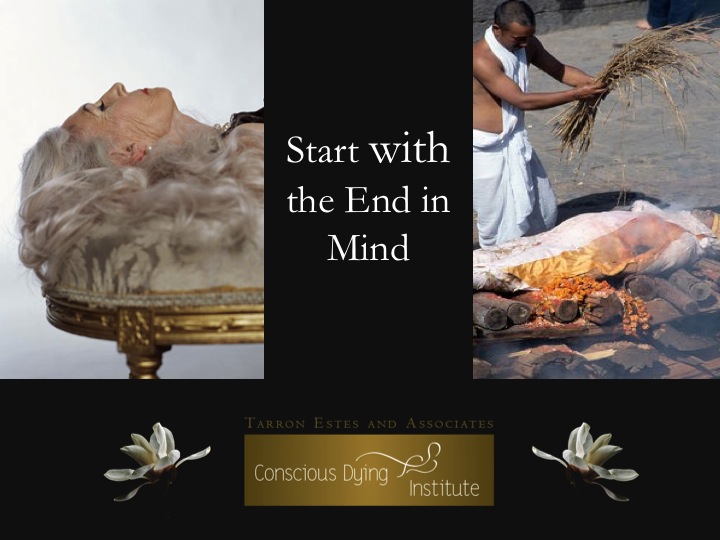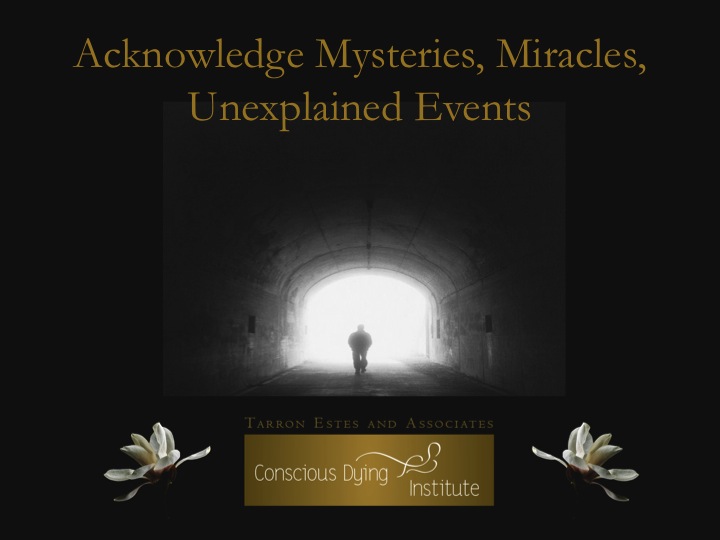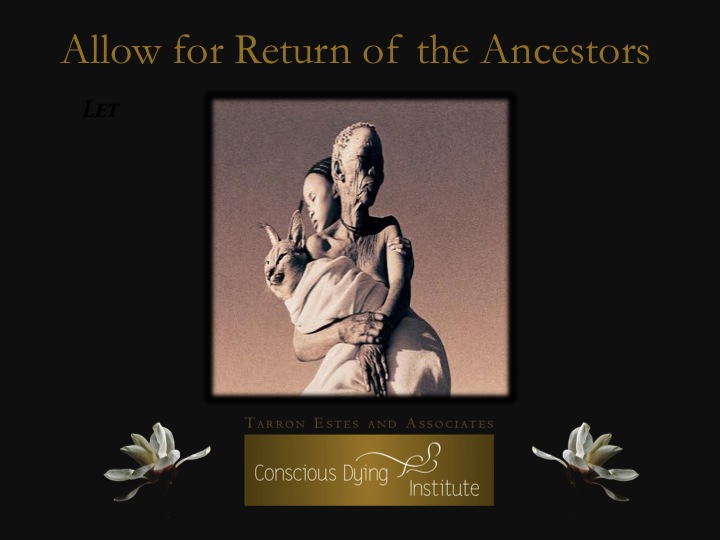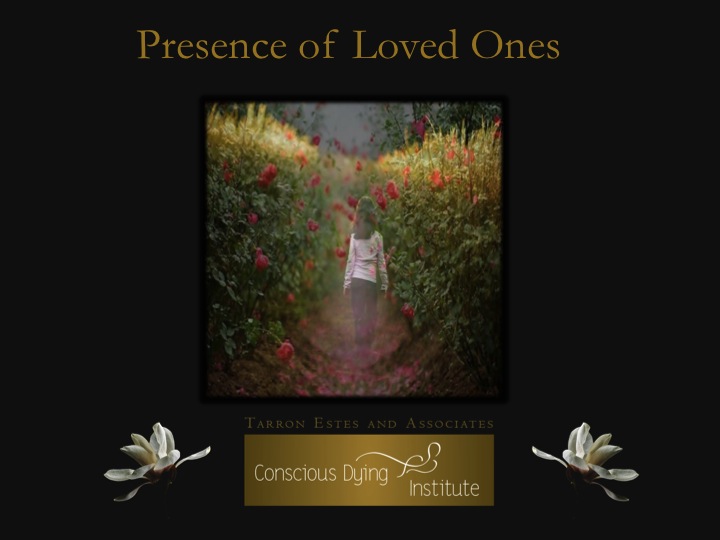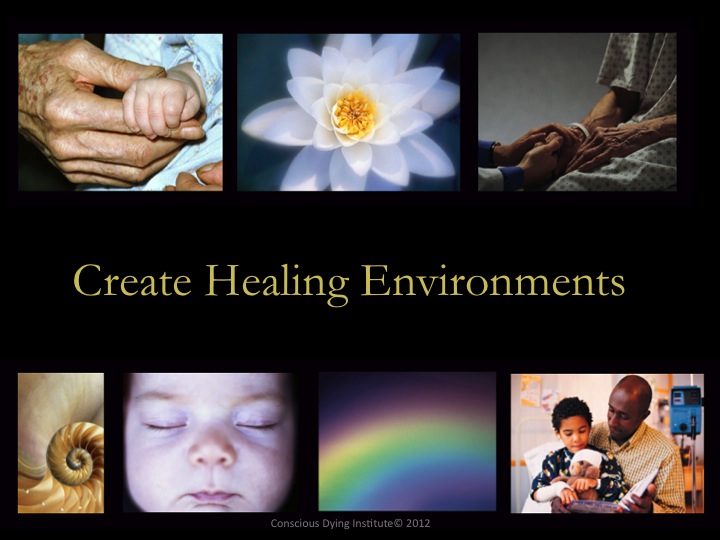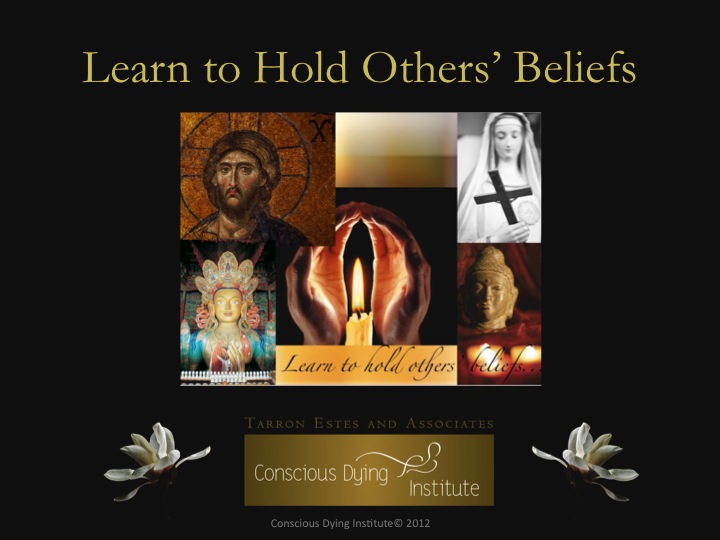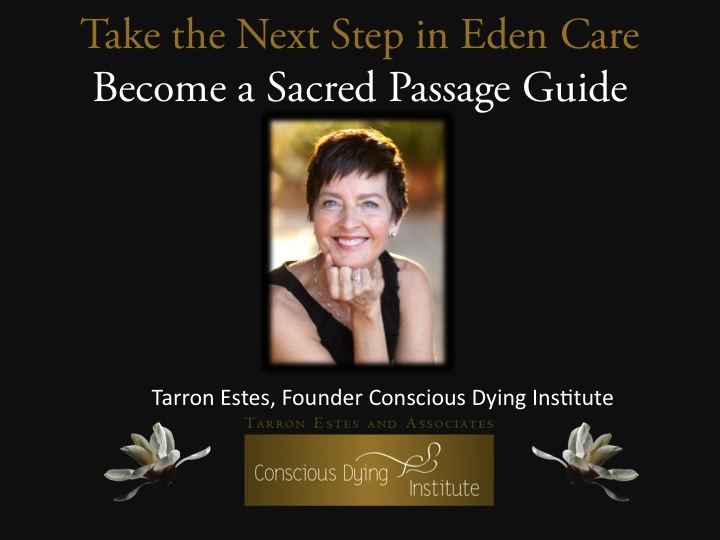 Thank you for your interest in our 6-day Residential Sacred Passage Doula certificate Retreat program!
The 2016 retreat will be held October 18th – 25th 2016 in beautiful Sebastian, FL.
This certificate course offers Caregivers the experience and transformation necessary to companion people through death as a rite of passage vs. a medical event. It supports the "Best Three Months of Life" online course with an 6-day onsite retreat for families, patients, caregivers and doulas-in-training.
Retreats are offered 2 times per year in different retreat settings. The retreat format expands the Conscious Dying Education experience with an intensive highly interactive, transformational program that attends to self-care and healing needs and the awakening of love and authentic presence of caregivers. The program's somatic, reflective activities give participants an embodied experience of empathy— of grief, loss, forgiveness, love, and how to be with intense emotional and spiritual states that can accompany families and patients facing death.
The program builds a caring healing community, teaches caregivers to work as teams, builds trust and safety which translates to patients and families. It establishes and deeper access to our authentic caring healing presence and ability to show up during the final 3 months to last days of life. Death doula skill building teaches caregivers to provide physical comfort, emotional and spiritual guidance; exemplify authentic presence; utilize authentic listening and authentic responding; read and respond to the energetic field of those they serve; offer appropriate comfort care healing modalities; and provide tenderness, wide open acceptance and loving response during the time of vulnerable life transitions. A Sacred Passage Guide can skillfully practice these qualities as an end of life companion for all people regardless of health status in any home or health care setting without the need for hospice or palliative care referral.

This course offers 64 CEUs. It is appropriate for frontline home and healthcare system caregivers and staff, for family, faith based or community organization members, and for nurses and life coach students, and finally, for anyone wanting to serve others facing end of life.
We utilize media rich emotionally and spiritually evocative content from leaders-old and new, in care for the dying. The programs integrates evidence based, caring healing practices from the work of Dr. Jean Watson's Caring Science Theory, using the Unitary World View and 10 Caritas Process side by side with Conscious Dying Principles and Practices. The combination of a variety of teaching/learning styles effectively brings personal healing and transformation to caring professionals so that their personal healing experience informs their care for others.
This 6-day retreat prepares caregivers across all settings to be authentically present, communicate with vulnerability, honesty, and compassion and administer palliative based comfort care healing modalities to anyone, regardless of health status, by focusing on improving care at end of life.
What Makes us Unique
Media Rich/Healing Intensive/Expert Presenter Learning Environment - multiple levels of learning and interaction at all times
Use of multi-media materials from the work of Elizabeth Kubler-ross, Dr. Jean Watson, Frank Osteski, Graceful Passages, etc.
Film, movies, Ted talks
Expert presenters and facilitators, innovators in end of life education, emotional intelligence, veterans, and more.
About Our Approach
Our program participants discover their true desires for living and dying, develop "Best of Life" visions and care plans in 5 Domains of Life, and receive and learn to administer caring healing modalities to all involved at end of life.
Conscious Dying Institute Mission and Intention
Conscious Dying Institute is an end of life education and healthcare training organization that increases the innate healing presence of frontline caregivers, develops confidence to have end of life conversations, and prepares them to offer comforting healing care to patients in Hospices, Senior Communities, Home and Health Care systems.

Caregivers trained in Conscious Dying Education reconnect to their true purpose and power as caring healing agents preparing them to respond to human frailty and vulnerability, to the basic needs of compassion, listening, honesty, holding, openness, kindness, comfort, patience, healing and love.

To offer care guided by love and presence is to create a caring healing culture of death and dying, one lead by caregivers who understand the transformational potential inherent in the dying process; Caregivers who reach and go beyond "do no harm", beyond patient satisfaction, quality patient care, and best financial responsibility (the triple aim) toward the evolution of human consciousness; Caregivers who restore death to its sacred place in the beauty mystery and celebration of life.

Our goal is to increase the number of people receiving palliative comforting, healing care by training frontline caregivers to talk about and fulfill the end of life wishes of patients and families in all home and health care settings.

Our mission is to restore death to its sacred place in the beauty, mystery and celebration of life, to create a caring healing end of life culture for nurses, staff patients and families in all health care settings, eradicating life diminishing treatment choices and futile care practices driven by fear of death. Outcomes: The program effectively shifts caregiver and patient experience from:
Curative care to healing care
Physical exhaustion to vitality
Challenging topics into confident, compassionately supported conversations
Unexpressed wishes to beauty-filled visions and Best Life Care plans
Unexpressed feelings into life satisfaction and completion
Who Benefits?
Supportive coursework for yoga students, teachers and teacher trainings
Continuing education for caregivers, therapists, and nurses, hospice volunteers
Community Organizations, and Faith Based groups
Senior Community and Long Term Care leaders and staff
Certificate Guidelines and Pre-requisites:
Complete the Application Process for acceptance into the program
Attendance at the retreat
Complete all pre and post assignments
If you do not meet the above requirements you are welcome to participate without Certificate
To receive CEU's you must complete the program evaluations and attend all session